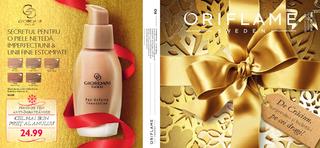 Apă de parfum Possess 
Atemporală, de o seducţie plină de magnetism, apa de parfum 
Possess captează senzualitatea provocatoare a Cleopatrei, 
împletită cu note irezistibile de ylang ylang. 50 ml 
 30886 134.90 
 99.99 
 Brăţară Possess 
Brăţară inspirată de sticla apei de 
parfum Possess. Modelul împletit 
este realizat din lănţişoare 
combinate, de culoarea aurului. 
Mărime ajustabilă. 
 27927 44.90 
 29.99 
 SETUL  LOVE POTION
Alege 1 ruj The ONE Power Shine 
+ 1 apă de parfum Love Potion 
+ 1 deodorant Love Potion cu:
69.99 lei1)
1) Comandă 1 nuanţă preferată a rujului 
The ONE Power Shine + 1 apă de parfum 
Love Potion + 1 deodorant Love Potion, pentru 
a benefi cia de preţul special pentru acest set: 
69.99 lei. În plus, vei primi punga cadou. 
 Punga oferită
CADOU
la achiziţia setului Love Potion 
 Apă de parfum Miss Giordani 
Luminozitatea fl orii de portocal 
neroli, tipic italiană, este semnătura 
defi nitorie a acestui parfum vibrant. 
50 ml 
 30399 89.90 
49.99 
Lapte & miere din surse organice
Laptele este bogat în nutrienţi 
recunoscuţi pentru benefi ciile 
de hidratare a pielii uscate. 
Mierea conţine vitamine şi minerale 
ce ajută la revitalizarea pielii. 
Cadou de lux pentru îngrijirea pielii 
 Cremă hidratantă de mâini Milk & Honey Gold 75 ml 
 26447 13.90 
 8.99
 Cremă hidratantă de 
duş Milk & Honey Gold 200 ml 
 15579 26.90 
 17.99 
 Cremă hrănitoare 
pentru mâini şi corp 
Milk & Honey Gold 250 ml 
 15570 37.90 
 24.99 
 Cremă de zi cu efect de 
fermitate FPS 15 Royal Velvet 
– ediţie aniversară 50 ml 
 30915 69.90 
39.99 
 Cremă de noapte cu efect 
reparator Royal Velvet 50 ml 
 22814 69.90 
39.99 
 Lapte demachiant 
Royal Velvet 200 ml 
 22421 34.90 
SET GIORDANI GOLD
Alege 1 nuanţă creion de buze 
+ 1 nuanţă ruj Voluptuous 
cu numai: 34.99 lei 
 Punga aurie oferită 
CADOU
la achiziţionarea setului Giordani Gold 
 Apă de toaletă Glacier 
Acest parfum revigorant şi îndrăzneţ îi este 
dedicat bărbatului sportiv, independent. 100 ml 
 8150 72.90 
 49.99 
 Deodorant roll-on 
antiperspirant 24H Glacier 
50 ml 
 13861 15.90 
 10.99 
 Apă de toaletă Flamboyant Trăieşte o viaţă fără 
limite pe notele vibrante de lemn şi citrice ale apei de 
toaletă Flamboyant. 75 ml 
 19639 89.90 
62.99